"Industriousness is not just, excuse me, a rubber butt"
On September 1, Vladimir Putin taught teachers a master class on how new academic year introduced in all Russian schools. He answered many questions of the guys and gave them various useful tips.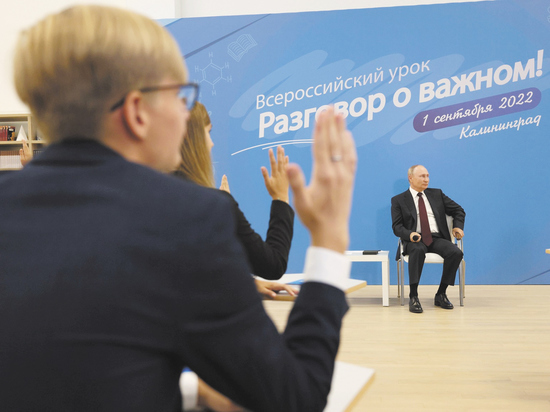 Photo: kremlin.ru
Lessons "Talk about the important" according to the plan of the Ministry of Education on a regular basis should begin on September 5. Every Monday, teachers will have conversations with schoolchildren on various patriotic topics, answer their questions and expose fakes that children may inadvertently hear or read on the Internet. But for the excellent students and activists of children's organizations who gathered in Kaliningrad, the first such conversation took place already on September 1. And it was held personally by Vladimir Putin. However, the President, apparently, did not delve too deeply into the recommendations of officials. "We are serious about everything. Some lesson there. But I hope that the conversation will be useful for you," he told the schoolchildren. According to Putin, adult life begins with a trip to the first class, because he has responsibilities. The main goal of 11 years of study is to find yourself in order to get satisfaction from life. And the successes of each are very important, because they make up the success of the country. After that, the president asked the students to ask him their questions.
None of the children directly asked about the special operation in Ukraine. But Vladimir Putin, apparently, really wanted to answer those who did not have the opportunity to ask. Therefore, taking advantage of the issue of materials for school museums, the president said that the presentation of events should be based on reliable materials. Here he recalled his recent conversation with Minister of Education Sergei Kravtsov, according to whom, children in the DPR, LPR and other Ukrainian territories that came under the control of the Russian Federation did not know about the existence of the Crimean bridge and that Russia and Ukraine used to be part of a single Soviet states. Putin admitted that he opened his mouth when he heard about it. "And not only children, but also adults do not know that Ukraine did not have its own statehood before the formation of the Soviet Union. Even this no one there knows, "continued VVP. He said that it was the Communist Party that formed Ukraine, transferring a significant part of the historical Russian territories to this republic, although the inhabitants of Donbass and other regions did not want to and opposed it. Initially, according to Putin, they were supposed to go to Russia, but Vladimir Lenin intervened and "ordered to reconsider." So, against their will, the DPR, LPR and other eastern lands turned out to be part of Ukraine. At the present stage, in 2014, their inhabitants, according to Putin, opposed the coup d'état, and the result of this was the war that Kyiv unleashed against the unrecognized republics. "Our mission is to end this war. To protect people and protect Russia itself," VVP emphasized, explaining that protection was needed, because. on the territory of today's Ukraine began to create an "anti-Russian enclave". Therefore, the special operation is fair, it is not "some kind of aggression" on the part of Russia. "You need to know how the Donbass ended up separated from Russia in order to understand whether we are doing something right or not," Putin said. He also explained to schoolchildren what Russian soldiers are fighting for and dying for in Ukraine: "They are fighting for Russia and for the people who live in Donbas."
The meeting participants did not ask additional questions on this topic. They were more interested in the president's advice – how not to make a mistake with the choice of a life path, how to choose the right mentor and cultivate the necessary qualities in oneself. One boy called Putin "one of the most disciplined individuals" and asked how he achieved this. However, the GDP refused to recognize itself as a model of discipline. And he named more important, in his opinion, qualities – the desire to achieve the goal, the breadth of views, a creative approach to solving any problems, individual freedom and diligence. "Industriousness is a separate talent, and not just, excuse me, a rubber butt," Putin believes.
Among his mentors, the president named school teachers, a judo coach, and senior KGB colleague San Sanych , who had been in illegal work for 25 years. "An illegal immigrant is not covered by a diplomatic passport, he takes risks every day," VVP explained to schoolchildren. San Sanych, according to him, did not expect gratitude. He himself was grateful to the Motherland that at one time she entrusted him with what she did not entrust to others, and he felt his demand. "When I heard this, everything turned upside down in my head," the president said with feeling, after which it became obvious that the creed of the old intelligence officer had become his own creed. And he is also grateful to the Motherland for the special trust. Responding to another participant in the meeting, Putin confirmed that he was satisfied with the way his life had turned out.