"People in military uniform have taken patients to an unknown destination"
Violent events are unfolding in Almaty after the protests. On January 8, the wounded disappeared from city hospitals. According to doctors, the patients were dragged out by unknown people in military uniform. All of them were put on a bus and taken away in an unknown direction. Since then, nothing is known about their fate. We spoke with the relatives of the missing people.
Photo: Alexey Malchenko, Talgat Galimov
29-year-old Sayat Adilbekuly was wounded January 5 in the afternoon on the way to the pharmacy. In the hospital, the man underwent surgery. And on January 8, he disappeared. Sayat's brother told this terrible story.
"I will retell the entire chronology of events, we have nothing to hide," says Alibek Adilbekov. – Our big family lives in Almaty in a three-room apartment – my mother, my family and my brother's family. During the days of the protests, we were at home. They knew that rallies were going on, but they preferred to stay on the sidelines. We have small children, serious work, we have nothing to do with politics. None of our family members have previously been involved by the investigating authorities for any reason.
On the night of January 4-5, my brother's one-and-a-half-year-old daughter developed a severe fever. There was no antipyretic at home. The Internet was disconnected, mobile communication was working partially. It was not always possible to get through to the doctors.
On the afternoon of January 5, my brother went to the pharmacy to get medicines. It was about 13.00. A little later, he called and said that the nearest pharmacies were closed. He warned him that he would try to go closer to the center, maybe something was working there. On this our connection was cut off. We didn't have time to finish.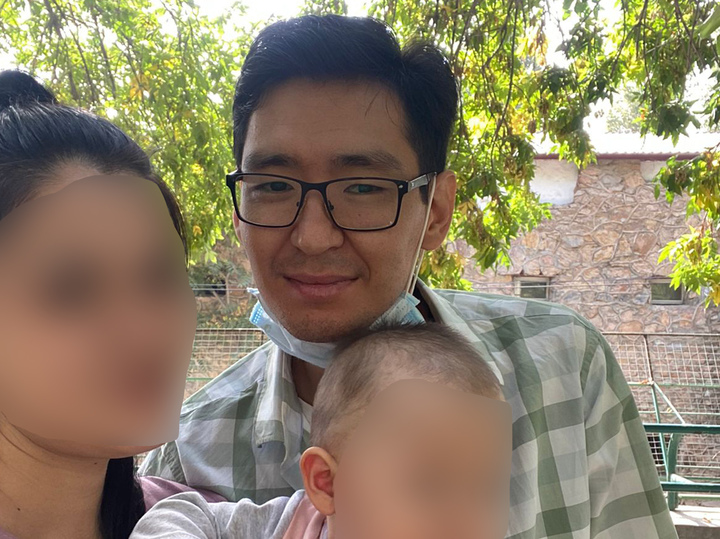 Sayat Adilbekuly with his wife and child
He returned home closer to 16.00. He came in all bloody. He was in a state of passion, in a semi-faint state, his voice was interrupted. I couldn't explain what happened. We dragged him to the bath. Stripped. I noticed a wound on him. They tied it up with a bandage. They called an ambulance. The doctors arrived quickly, literally in 10 minutes. Together with the paramedic, we dragged my brother to the car and went to hospital # 7.
A doctor hastily examined Sayat in the emergency room. Then he was taken for an x-ray. The surgeon decided to urgently operate. Fortunately, by that time, a place was freed up in the operating room.
I was waiting for the end of the operation in the corridor. I noticed that there were many wounded in the hospital. Several people died before my eyes.
My brother was operated on. The surgeon said he was lucky. I inquired what he had been wounded – with a bullet, a grenade splinter or a knife. The doctor assumed there was a bullet that hit the rib. And part of the rib damaged internal organs. And he added that the injury is serious, it will take 15 to 30 days to recover. Sayat had two catheters installed. They had to be changed every three hours.
In the following days, we called up with my brother, passed him food: dumplings and broth with chicken. He briefly told what happened. According to him, he walked along the sidewalk towards the house, there were some other passers-by nearby. Suddenly there was a clap from behind. His ears rang. He fell. Apparently, a car stopped nearby, someone decided to help him. The brother did not understand why he was injured.
On January 8, we could not get through to him. We came to the hospital. Employees of the clinic said that at 10.40 in the morning unknown people broke into the hospital and introduced themselves as a special unit "Arlan" (Kazakhstani police special forces – "MK"). They took more than 30 people from the hospital, among whom were seriously wounded. The patients were not given the opportunity to dress. The doctors returned our brother's clothes, even his underpants. The nurses were shocked that the patients dragged their armpits naked into the cold, covering them only with a sheet. Although many patients could not be transported either in a sitting position, much less in a standing position, it was allowed only in a supine position. All were loaded into an ordinary 19-seat Gazelle and taken away in an unknown direction.
On the same day we went to the Department of the Interior. They didn't even talk to us.
On January 10, with tears and entreaties, they turned to the officers of the local police department. There they still bothered to accept from us a statement about the disappearance of a person. But they warned that they would not do business: "We have no time for you now."
We want to make this story public. We are still in the dark. Why do law enforcement officers kidnap people in broad daylight? Under the guise of a state of emergency, lawlessness is going on in the city. People are kidnapped, they are not given the opportunity to contact their relatives.
All these days we have been trying to get through to Sayat. His phone is not disconnected. There are beeps. But no one picks up the phone.
Recently we again came to the hospital to ask the doctors for an explanation of how it happened. They asked me to give my brother's medical history. They didn't want to talk to us. It almost didn't come to a fight. Later, the deputy head physician of the hospital talked to us. He stated that all information about the patients and their condition at the time of the abduction would be given only in the presence of the police.
We went to the precinct. They asked him to come with us to the hospital. He brushed aside: "I have no time for you." We get kicked wherever possible. We cannot understand what to do now, where to move.
If a brother is being charged, why is it not reported to us? Now many people are looking for their loved ones. On the Internet they write that according to official data there are about 30 missing persons. In fact, there are more than 1000 of them. People have lost loved ones in three days of protests.
My brother is not an action movie. He is 1.90 tall and weighs 61 kg. He is thin, he has never played sports. Sayat is a visually impaired person of the second group; one of his eyes almost cannot see. How can he be a terrorist? The figure was announced that 20 thousand militants were operating on the territory of Kazakhstan. Where did the authorities get this figure from?
After our story is publicized, we fear persecution. But we have no other choice. We need to be heard. Maybe someone saw or heard where our loved one is. What's wrong with them. What state he is in. Please help. "
" Patients shouted, resisted, but did not listen to them "
A second similar story told Asem, who lost her father.
"On January 6, my dad, Isyn Mukhametaliev, disappeared," Asem says. – At lunchtime, he went out of the house to the store behind the Almaty Arena. And he didn't come back. He was not aware of the situation in the city. He was dressed lightly: a thin dark blue windbreaker, inside the jacket was white to a point. Warm gray pants, black shoes, and a dark hat. Special features are a gray mustache, black hair. Swarthy, short, with a belly. Speaks only Russian.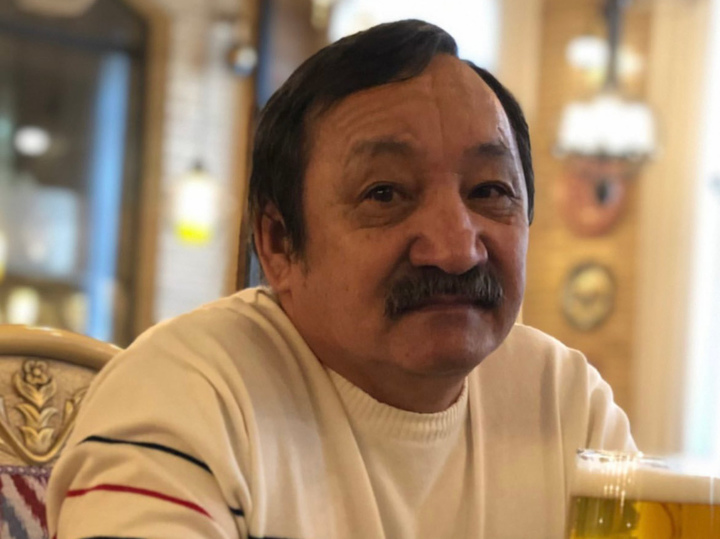 Isyn Mukhametaliev
He is also very kind, always ready to help. We've been looking for him all these days. They left a request for a search. We went to the morgues several times, but they didn't find him there. In the intensive care unit, where the unidentified people are, he was not there either, I was shown photographs of patients. He is not among the wounded in the hospital either. Doctors said that many patients were taken away on January 8 by unknown people and taken away somewhere. According to them, they were like riot police. While I was looking for my father, I met many people whose loved ones also went to the store and did not return. "
military hospitals took patients with bullet and knife wounds: "The patients resisted, shouted, but no one listened to them. We don't know where they were taken, nobody told us. " : //static.mk.ru/upload/entities/2022/01/11/12/photoreportsImages/detailPicture/20/9b/ac/2b/8384cee2fd8719e466cf596b4b8ff25f.jpg "height =" 400 "width =" 600 "/>
See the related photo gallery